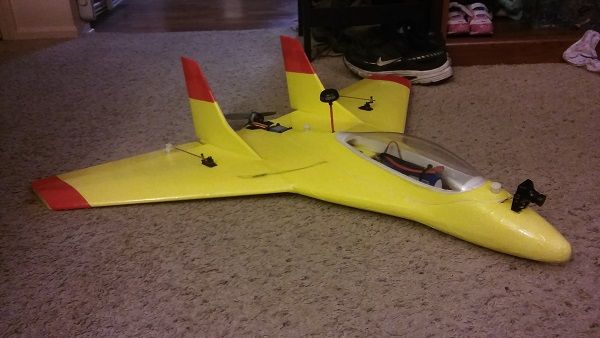 I bought an HK Skyfun and I've set it up with a Spektrum AR400 rx, metal gear servos, a Turnigy 2826-6 2200kv motor, Turnigy 40amp Plush ESC, 6x4 APC prop, 3S 2200mah 45C Nanotech, and ImmersionRC 5.8ghz FPV.  I've wanted to do this project for nearly a year and I finally got around to it. 
I removed all the Skyfun decals.  Most of them were pealing off already, lol.  Then I added 3 strips of carbon fiber to the belly of the plane and glued them in place.  Then I covered the plane with colored packing tape for visibility, a bit of water proofing, and the packing tape does add a bit of strength and surely helps with aerodynamics because of the smoothness of the tape.
I had the maiden flight, and two additional line of sight flights, the other day.  I think this plane may be quicker than I thought it would be, lol.  I had to lower the dual rates to 80% on the elevons and 35% expo.  I'm going to do a few more LOS flights because I'd like to make real sure that the plane is as trimmed as possible before I start flying it FPV....but I think this plane is going to be a riot with the goggles on.
ZMR250 FPV Racing Quad with 5.8ghz
HK Skyfun with ImmersionRC 5.8ghz 600mw vtx
Scratch built foamboard canard with 1.3ghz